"HIBLOW" of Techno Takatsuki, pioneer of air pump utilizing the power of air and expanding the possibility, has developed further evolution.The name is "Airtronics". From the conventional air pump which only exhausts air, to the air pump which has control function to select the most suitable / the best condition depending on the conditions or environemnts of the applications. We introduce new world which is created by collaboration of air pump with electronics.
Structure of Airtronics control system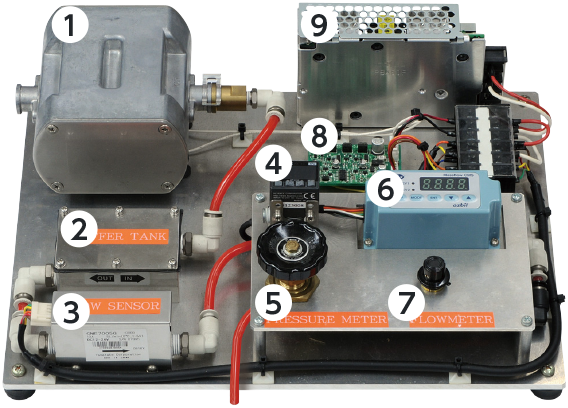 ① FC blower
② Buffer tank
③ Flow sensor
④ Pressure gauge
⑤ Pressure volume
⑥ Flow meter
⑦ Flow rate volume
⑧ Control board
⑨ Power supply
How the Airtronics control system works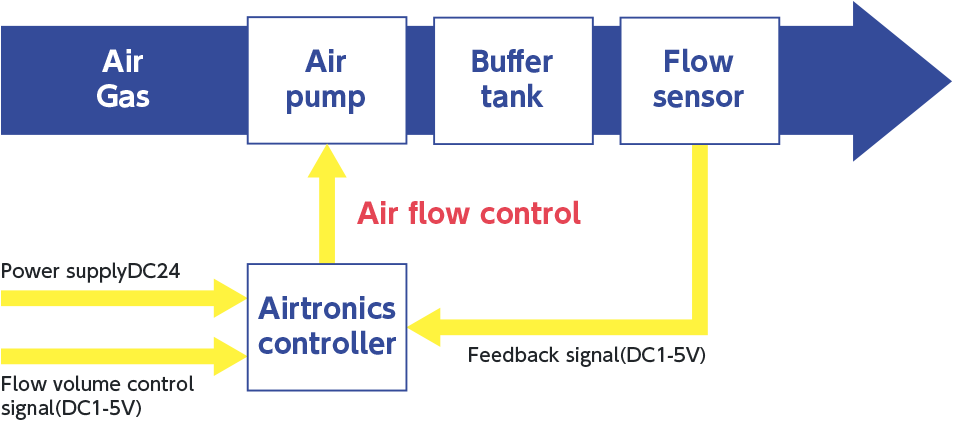 Performance curve by voltage control

The features of "Airtronics"
Conventional
Air flow level is different in the area of 50Hz frequency and area of 60Hz frequency.
Airtronics
Maintain constant air volume and pressure by getting rid of function difference caused by frequency difference, etc.
Conventional
Difficult to control flow and pressure level of air pump as desired. (Manually variable by using cock, etc.)
Airtronics
Automatic control for air flow and pressure at the desired level, according to application conditions.
Conventional
The electromagnetic vibration type air pump works only by AC power supply.
Airtronics
By providing invertor, it can comply with DC power supply such as application in automobile and built-in to the equipment.
Conventional
Customer sets manually on timer and etc.
Airtronics
Timer setting and controller from supplier can be fixed, complying with the request.
We have wide variety of air pumps from the range from 3L/min to 200L/min (5kPa to 50kPa), and we provide most suitable pumps to the customers with easy maintenance, small-sized, low noise, long life and low power consumption considering environment. In addition to those features, we add "intelligence" to air pump.
Our original "Hiblow" air pumps are being filled up more and more. Please feel free to contact us if you need information or support.
* HIBLOW & AIRTRONICS is registered trademark of Techno Takatsuki co., ltd.